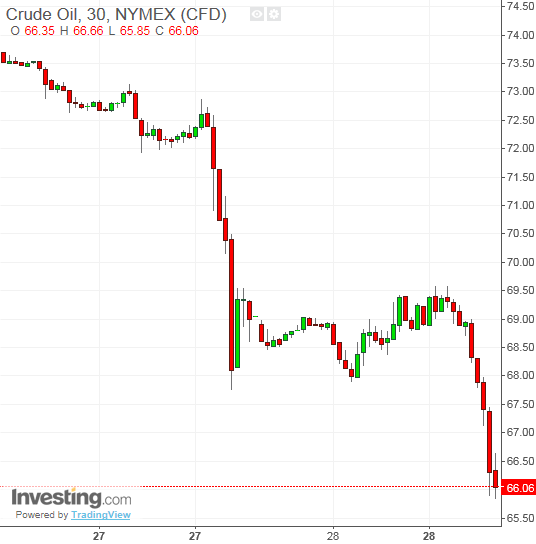 When OPEC announced on Thanksgiving Day that it would maintain oil production at 30 million barrels per day, chaos broke out in the oil market, and the price of oil around the globe spiraled into a terrific plunge. The unity of OPEC, if there ever was such a thing, was in tatters with Saudi oil minister smiling victoriously, and with a steaming Venezuelan oil minister thinking of the turmoil his country is facing [OPEC Refuses to Cut Production, Oil Plunges off the Chart].
The bloodletting in the oil markets on Thursday led to some wobbly stability on Friday, and for a while it seemed oil had found a bottom, but then the US stock market closed early while crude continued trading, and suddenly all heck re-broke loose, and the US benchmark WTI plunged again and broke the $66-a-barrel mark before coming to a rest at $66.06. After a near 10% dive in two days, WTI is now down 37% since June!
This chart shows the Thanksgiving plunge following OPEC's decision, the deceptive stability Friday, and the afterhours plunge:
This post was published at Wolf Street on December 1, 2014.