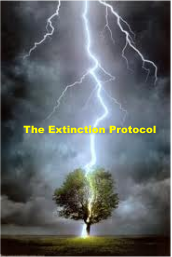 May 2015 – JAPAN – A powerful undersea earthquake south of Japan has shaken buildings in Tokyo. The US Geological Survey said the 7.8 – magnitude earthquake was centered 874km (543 miles) from the Japanese capital, at a depth of almost 700km. It struck at 18:30 local time (11:30 GMT). Buildings in the capital swayed for almost a minute as the quake built in intensity, AFP news agency says. There are no reports of serious damage or casualties. No tsunami warning has been issued. Tokyo Electric Power Co said there were no abnormalities at the crippled Fukushima nuclear power plant following the quake. The runways at Tokyo's Narita airport were operating normally but the high-speed bullet train service between Tokyo and Osaka was halted due to a power outage, the broadcaster said. -BBC
The Extinction Protocol
This post was published at The Extinction Protocol on May 30, 2015.