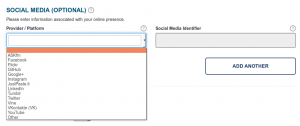 In the Obama Administration's parting gift to foreign visitors, the Office of Management and Budget (OMB) has approved the collection of social media IDs from foreign visitors to the US. As part of the online Electronic System for Travel Authorization (ESTA), tourists, business travelers, and foreign citizens visiting friends and relatives in the US are now being asked whether they have accounts on any social media platforms, and if so, their user names or IDs.
ESTA is, in effect, an online 'electronic visa' system. The US does not issue any visas on arrival at borders or airports, and does not allow transit without a visa. Visitors to the US from most countries must obtain a visa in advance, which requires a personal interview at a US Embassy or Consulate and costs a minimum of $160 even for a tourist or transit visa. Visitors from more favored countries in the Visa Waiver Program (VWP) are allowed to enter the US temporarily without a paper visa, for limited-duration stays for limited purposes, if they have obtained permission in advance, for a fee of $14, through the ESTA website operated by US Customs and Border Protection (CBP).
This post was published at Papers Please on Dec 25, 2016.