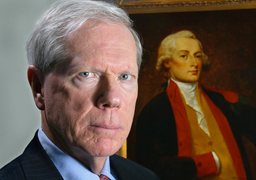 I listened to part of Trump's UN speech this morning. I was so embarrassed for him and for my country that I had to turn it off.
I wonder if whoever wrote the deplorable speech intended to embarrass Trump and inadvertently embarrassed America as well, or whether the speechwriter(s) is so imbued with the neoconservative arrogance and hubris of our time that the speechwriter was simply blind to the extraordinary contradictions that stood out like sore thumbs all through the speech.
I am not going to describe all of them, just a couple of examples.
Trump went on at great length about how America respects the sovereignty of every country and the people's will of every country, and how the US, despite its overwhelming military power, never tries to impose its will on any country. What was the administration thinking, or can it think? What about Yugoslavia/Serbia, Afghanistan, Iraq, Libya, Somalia, Egypt, Syria, Yemen, Pakistan, Crimea, Ukraine, Venezuela, Honduras, Ecuador, Bolivia, Brazil, Argentina, just to mention countries in the 21st century that have been subjected to US military attacks, government overthrows, and removals of political leaders who did not conform to US interests?
This post was published at Paul Craig Roberts on September 19, 2017.