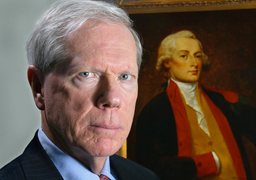 Is the US really a superower or just the biggest collection of stupidity on the planet?
Syria – ISIS Is Defeated – The U. S. Is Next In Line
Washington has already lost the Syrian war once. Now it is about to lose it a second time.
A few days ago the president of Russia, Vladimir Putin, declared a 'complete victory' in Syria:
'Two hours ago, the (Russian) defense minister reported to me that the operations on the eastern and western banks of the Euphrates have been completed with the total rout of the terrorists.'
The Iranian commander of the forces which support the Syrian and Iraqi governments sent a note to the U. S. to let Washington know that any remaining U. S. forces in Syria will be fought down:
'The commander of the Iranian Revolutionary Guards Corp Brigadier General Haj Qassem Soleimani sent a verbal letter, via Russia, to the head of the US forces commander in Syria, advising him to pull out all US forces to the last soldier 'or the doors of hell will open up.''
'My message to the US military command: when the battle against ISIS (the Islamic State group) will end, no American soldier will be tolerated in Syria. I advise you to leave by your own will or you will be forced to it.'
This post was published at Paul Craig Roberts on December 11, 2017.