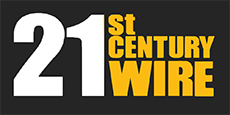 Episode #214 of SUNDAY WIRE SHOW resumes on Dec 17th 2017 as host Patrick Henningsen brings you this week's LIVE broadcast on the Alternate Current Radio Network (ACR) – covering all the top news stories worldwide…
LISTEN LIVE ON THIS PAGE AT THE FOLLOWING SCHEDULED SHOW TIMES:
5pm-8pm UK Time | 12pm-3pm ET (US) | 9am-12am PT (US)
This week the SUNDAY WIRE is broadcasting LIVE as host Patrick Henningsen covers this week's top stories from the US, UK and internationally. We'll also be joined by special guest, editor of The Duran, Adam Garrie, will join us from London to discuss the rise of general Russia Mania in the West as it seems to be reaching some sort of climax this holiday season, as well as the latest surprising development with Julian Assange and Wikileaks. We'll also delve into the life and times of what could very well be 'The World's Most Interesting Man,' former Georgian President turned professional agitator Internationale, Mikheil Saakashvili, as we chronicle his incredible geopolitical carpet-bagging exploits of late including threatening to jump off off a building Kiev. What's he really up to? We'll also address some important Christmas season issues that might be affecting the ones you love, or maybe just someone you might cross paths with this holiday season. Enjoy the show…
SUPPORT 21WIRE – SUBSCRIBE & BECOME A MEMBER @21WIRE. TV
Strap yourselves in and lower the blast shield – this is your brave new world…
*NOTE: THIS EPISODE MAY CONTAIN STRONG LANGUAGE AND MATURE THEMES*
PLEASE CLICK HERE TO LISTEN
This post was published at 21st Century Wire on DECEMBER 17, 2017.