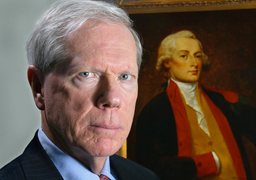 The liberal/progressives, lost as they are in their emotionalism, do not realize that their rantings about white supremacists are also discrediting themselves and not merely their foes. The rest of the world doesn't differentiate between good whites and bad whites. As one reader who wrote to me from India said, 'All whites are guilty.' That is the position of the left who assert that White Supremacy is institutionalized in the United States and has been from day one. The white liberal/progressives should read Jean Raspail's book, The Camp of the Saints and discover that the world does not differentiate them from white nationalists. Whites – not 'some whites' – are seen as a plague on the world.
If a book is too much for them, they can read Ajamu Baraka in Counterpunch:
'What is the character of racist right-wing politics today? Is it the crazed white supremacist who plows into an anti-fascist demonstration in Charlottesville, VA or can it also be the assurance by Lindsay Graham that an attack against North Korea would result in thousands of lives lost…. but those lives will be 'over there'? What about the recent unanimous resolution by both houses of Congress in support of Israel and criticism of the United Nations for its alleged anti-Israeli bias? Would that qualify as racist and right-wing, since it appears that the ongoing suffering of the Palestinians is of no concern? And what about the vote by the U. S. House of Representatives to go even beyond the obscene proposal of the Trump administration to increase the military budget by $54 billion dollars and instead add a whopping $74 billion to the Pentagon budget?
'What I find interesting about the current discussion around what many are referring to as the emboldening of the radical white supremacist right is how easy it is to mobilize opposition against the crude and overt white supremacists we saw in Charlottesville. So easy, in fact, that it's really a distraction from the more difficult and dangerous work that needs to be done to confront the real right-wing power brokers.
This post was published at Paul Craig Roberts on August 17, 2017.