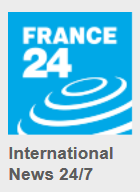 The outlook for the German economy, Europe's biggest, brightened on Monday when data showed the country's trade surplus hit a new record in July on the back of booming exports.
After allowance for seasonal blips, Germany exported goods worth a total of €98.2 billion ($127 billion) in July, 4.7 percent more than in June, the federal statistics office Destatis said in a statement.
Imports, on the other hand, shrank by 1.8 percent to €76.1 billion.
That meant the seasonally adjusted trade surplus — the balance between imports and exports — increased to €22.2 billion in July from €16.4 billion in June.
This post was published at France24