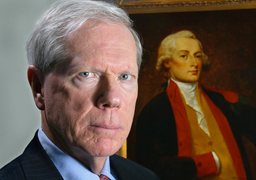 US Representative Ed Royce (R, CA) is busy at work destroying the possibility of truth being spoken in the US. On April 15 at a hearing before the House Committee on Foreign Affairs of which Royce is chairman, Royce made use of two minor presstitutes to help him redefine all who take exception to Washington's lies as 'threats' who belong to a deranged pro-Russian propaganda cult.
Washington's problem is that whereas Washington controls the print and TV media in the US and its vassal states in Europe, Canada, Australia, Ukraine, and Japan, Washington does not control Internet sites, such as this one, or media, such as RT, of non-vassal states. Consequently, Washington's lies are subject to challenge, and as people lose confidence in Western print and TV media because of the propaganda content, Washington's agendas, which depend on lies, are experiencing rougher sledding.
Truth is bubbling up through Washington's propaganda. Confronted with the possibility of a loss of control over every explanation, Hillary Clinton, Ed Royce, and the rest are suddenly complaining that Washington is 'losing the information war.' Huge sums of taxpayers' hard earned money will now be used to combat the truth with lies.
What to do? How to suppress truth with lies in order to remain in control? The answer says Andrew Lack, Royce, et alia, is to redefine a truth-teller as a terrorist. Thus, the comparison of RT and 'dissident' Internet bloggers to the Islamist State and the designated terror group, Boko Haram.
This post was published at Paul Craig Roberts on April 21, 2015.