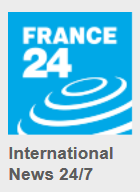 Plunging cleavage, mini-skirts, bleached hair and champagne: it's all there… in the Islamic Republic of Iran. On the Instagram account "Rich Kids of Tehran", young Iranians from the Iranian elite post pictures to show off their bling. The Western media can't believe its eyes. But in Tehran, it's basically a non-event.
It's THE most talked about Instagram in the Western media right now. The Iranian account is based on the "Rich Kids of Instagram," an account that reposts photos of young and wealthy Americans. "Rich Kids of Tehran" shares photos that young Iranians have posted showing the gleaming bodywork of their luxury cars, their poolside afternoons with friends at private villas, and their lavish parties. More than 90,000 followers tune into this account to get glimpses of these glamorous lifestyles.
If the Kim Kardashian-style pics are intriguing so many people, it's because they were taken in Iran. It's a country where alcohol is forbidden, where women must be veiled and wear loose clothing in public and where even men are advised to adopt "Islamic hairstyles."
This post was published at France24