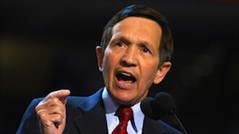 RPI Advisory Board Member Dennis Kucinich, interviewed this week on the Alan Colmes Show, emphatically argues against the United States military attacking ISIS. In particular, Kucinich explains that the US government is lying and manipulating fear to justify war on ISIS. A big part of the US government's trickery, Kucinich notes at the beginning of the interview, is that US 'ally' Qatar is funding ISIS while the US government is bombing ISIS. Asked by Colmes what Kucinich, a two-time presidential candidate, would do regarding ISIS if Kucinich were 'in power,' Kucinich responds:
Well, I'd start with having Qatar stop funding them. I mean, to me it's not even credible that Qatar could be providing money to ISIS and the US spending $80 billion a year on so-called intelligence doesn't know that.
Kucinich proceeds in his answer to note that Saudi Arabia was also involved in funding ISIS and that the US government funded ISIS indirectly through its funding of insurrectionists in Syria in an effort to overthrow the Syria government. Kucinich expands on this matter later, explaining:
This post was published at Ron Paul Institute on September 10, 2014.