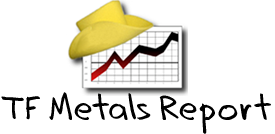 Another great show last night where Mr. Batchelor and Professor Cohen provided a dose of essential information in regards to Syria, Russia, Ukraine and the New Cold War.
We've been posting these podcasts every week since February of 2014, as the New Cold War began in earnest with the "Maidan Revolution" in Ukraine. Events have moved from Kiev to The Baltics and now to Syria but the battles remain the same as The American War Party seems ever determined to drive a potential conflict with Russia. Russia has its own "War Party" and events such as the American missile strike in Syria have them clamoring for increased hostilities, too.
This post was published at TF Metals Report on April 19, 2017.