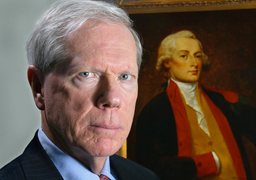 We should be scared to death that Sally Q. Yates served as a prosecutor in the Justice (sic) Department for 27 years. In the New York Times Sally takes high umbrage to Trump's criticism of his attorney general, Sessions, and blows Trump's disappointment with Sessions into an attack by Trump on the rule of law. Sally has it backwards. The rule of law is being attacked by the appointment of a special prosecutor to find something on Trump in the absence of any evidence of a crime.
In 1940 US attorney general Robert Jackson warned federal prosecutors against 'picking the man and then putting investigators to work, to pin some offense on him. It is in this realm – in which the prosecutor picks some person whom he dislikes or desires to embarrass, or selects some group of unpopular persons and then looks for an offense – that the greatest danger of abuse of prosecuting power lies. It is here that law enforcement becomes personal, and the real crime becomes that of being unpopular with the predominant or governing group, being attached to the wrong political views or being personally obnoxious to, or in the way of, the prosecutor himself.'
This post was published at Paul Craig Roberts on July 31, 2017.